A historic walled city, fascinating shops and countless restaurants and bars are waiting to be explored, starting with a ferry trip to St Malo.
Condor Ferries sails to St Malo from Poole, Guernsey and Jersey ports, with daily ferry crossings available throughout April to September which are our peak travel months.
If you travel from Poole, your journey begins onboard Condor Liberation and a ferry change in Jersey or Guernsey to Condor Rapide. Sailing durations from Poole to St Malo are from 6 hours and 30 minutes. Some sailings to St Malo may include a stopover in Jersey which can be from 4 hours so be sure to plan your journey well in advance to get the sailing times and fares that suit your holiday the most.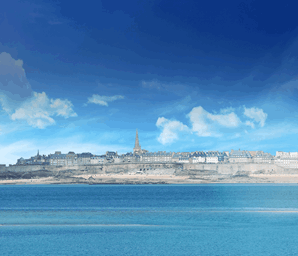 If you're travelling from the UK to St Malo with Condor Ferries, you'll be sailing from Poole port, changing ship in Guernsey or Jersey. More exciting than an overnight ferry to St Malo, you can sail onboard the high-speed Condor Liberation from Poole port and change ship to Condor Rapide, getting you there in at least 6 hours and 30 minutes.
If you're travelling from Jersey, our other fast ferry, Condor Rapide gets you to St Malo in 1 hour and 20 minutes. From Guernsey, the sailing duration to St Malo is from 2 hours and 45 minutes.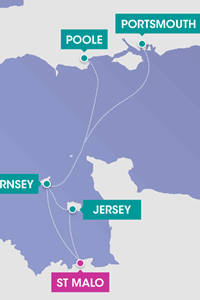 It's always a good idea to book your ferry travel as soon as you've planned your holiday. If you'd like to travel during peak seasons like summer or half term then do try to book early – the further in advance you book, the more likely you are to find a better fare. Consider travelling on a week day instead of a weekend – you might find more options to suit your budget.
Poole to St Malo
From 6 hours and 30 minutes
Daily
Condor Liberation and Condor Rapide
Jersey to St Malo
From 1 hour and 20 minutes
Up to twice a day
Condor Rapide
Guernsey to St Malo
From 2 hours and 45 minutes
Up to 4 times a week
Condor Rapide
Plan your trip information is based on peak travel period: April - September
Whether you're planning on taking your car to explore France or going on foot, taking the ferry to St Malo is a unique experience with stunning sea views to enjoy on the way to the historic port.
Here's all the information you'll need on how to book, our timetables, which travel documents to take and what to do when travelling with a pet. Looking for things to do while in St Malo? Head over to our St Malo Travel Guides.