Visit your neighbouring island of Jersey on a day trip from Guernsey with Condor Ferries.
In just 1-hour onboard Condor Voyager, you could be exploring Jersey's luscious landscapes and delicious local cuisine.
During your ferry crossing, you'll be able to visit the onboard cafe and bars for a convenient meal and refreshing drink and take some time to shop in the Adore duty-free shop. 
You can go on foot or take your car depending on how you'd like to spend your time ashore in Jersey. Our Guernsey to Jersey day trips give you 4 hours of shore time on average.
Day trip dates:
04.1.24, 06.1.24, 29.1.24, 03.2.24, 16.2.24, 19.2.24, 08.3.24, 15.3.24, 22.3.24, 23.3.24, 28.3.24, 30.3.24, 02.4.24, 04.4.24, 05.4.24, 06.4.24, 11.4.24, 12.4.24, 18.4.24, 19.4.24, 08.6.24, 13.6.24, 15.6.24, 20.6.24, 22.6.24, 27.6.24, 29.6.24, 03.7.24, 04.7.24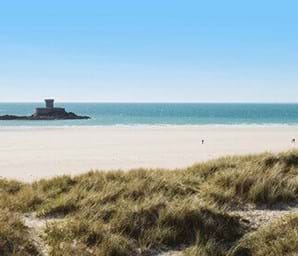 What's included
Your day trip experience starts onboard
Duty Free Shopping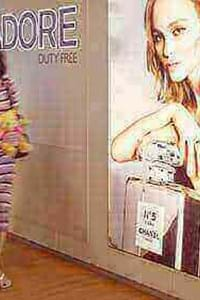 While you're onboard, don't forget to visit the Adore Duty Free shop to save on your favourite brands. Shop genuine duty free savings of up to 40% off UK high street prices on a huge range of tobacco, wines, spirits, fragrances, gadgets and accessories.
Food & Drink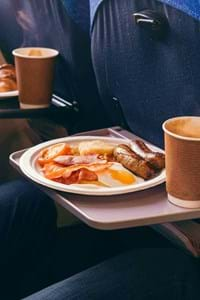 Join us in one of the onboard restaurants or bars and choose from a wide range of hot and cold meals, snacks and drinks. There's something for everyone: from children's to gluten-free options for breakfast, lunch, dinner and everything in between.
Seat Upgrades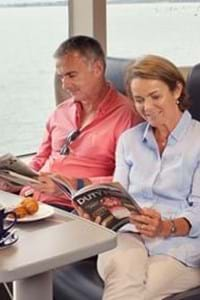 Sailing on board Condor Voyager, you can take in the panoramic views from your seat in the Horizon lounge. A relaxing and perfectly comfortable way to sail to Jersey for your trip from Guernsey. Or, treat yourself to an upgrade to Premium Select, where you can enjoy a welcome drink and complimentary tea and coffee throughout your journey.