Book your trip to Guernsey with confidence. You can easily change your booking for free up to 48 hours before your departure, with only the difference in fare to pay.
Search availability, times and prices


QUOTE & BOOK
Ferry routes to Guernsey
If you're crossing from the United Kingdom, you have a choice of sailings. Getting to St Peter Port in Guernsey is easy onboard our high-speed ferry, Condor Liberation, which sails from Poole port in 3 hours. Or, you can travel onboard our conventional ferry Commodore Clipper, from Portsmouth port taking around 7 hours.
Every day except Sundays and Tuesdays, you can take the ferry crossing directly to Guernsey from Jersey on Commodore Clipper for 2 hours.
If you're visiting from France, our St Malo to Guernsey crossing sails on Wednesdays with Condor Voyager which can get you there in 1 hours and 55 minutes. Alternatively, you can travel indirectly through Jersey on Sundays which takes around 3 hours 20 minutes.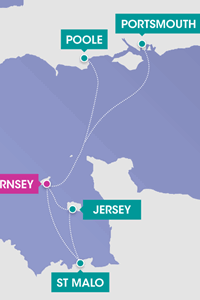 Golden beaches, historic sites, great attractions and award-winning food. Create lasting memories starting with a ferry trip to Guernsey!
Condor Ferries operates 2 ferry routes between the UK and Guernsey, Channel Islands. We sail from Poole to Guernsey and Portsmouth to Guernsey. Poole is our fastest route taking just 3 hours, whilst Portsmouth will take a duration of 7 hours on Commodore Clipper. 
Sailing durations to Guernsey are different depending on where you're travelling from. The quickest ferry to Guernsey from the UK departs from Poole, with a duration of 3 hours every Friday, Saturday, Sunday and Monday in peak season. You'll have plenty of time to walk around onboard and enjoy everything we have to offer. Or, you could just settle down in a comfortable seat and watch the world go by.
Our return Guernsey to Poole route connects Guernsey with England. This ferry crossing operates on Sundays and Mondays and takes just 3 hours. For an alternative route to the UK, we also offer a direct fast crossing between Guernsey and Portsmouth on Fridays and Saturdays which takes 3 hours and 30 minutes. The Commodore Clipper sails from Guernsey to Portsmouth indirectly via Jersey every day except Sundays, taking around 12 hours and 55 minutes. Click here for more information on our routes from Guernsey to the UK.
And, if your plans change, you can rest easy knowing that you can book with confidence with free amendments. You can easily change your booking for free up to 48 hours before your departure, with only the difference in fare to pay.
Please see the latest Coronavirus travel advice for Guernsey here.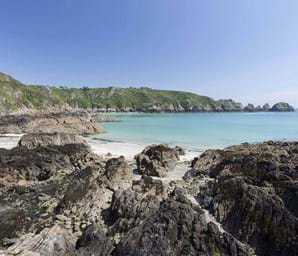 Plan your trip information is based on peak travel period: July - September
Frequently Asked Questions
1. How to get to Guernsey from the UK by ferry?
Condor Ferries is the only ferry company operating between the UK and Guernsey. You can get to Guernsey from either Poole or Portsmouth ports from the UK. We also offer services between St Malo to Guernsey and Jersey to Guernsey.
2. How long is the ferry to Guernsey?
The ferry to Guernsey takes just 3 hours from Poole on board our fast ferry Condor Liberation and 7 hours from Portsmouth on board Commodore Clipper.
3. Can you drive to Guernsey?
Yes, getting the ferry to Guernsey by car is easy on our car and passenger ferry from Poole or Portsmouth. Just pack your car with everything you need for a family holiday – there's no need to worry about luggage restrictions.
4. Do you need a passport to go to Guernsey?
Passengers are required to bring photo ID to check-in. It's not essential to bring your passport, but you will need to bring a form of photographic ID. Forms of photo ID we accept to travel can be found here.
About Guernsey
Guernsey is just 50km to the west of the Normandy coast in France and boasts milder weather than the UK. Guernsey is slightly smaller than Jersey at 25sq miles, but this Channel Island offers numerous attractions for the whole family. Explore one of the 27 beautiful bays or beaches of Guernsey, take a boat over to explore the nearby islands of Herm, Alderney, and Sark. Take a walk and soak up the stunning landscapes, stroll the narrow streets of St Peter Port, and discover Guernsey's rich history and museums to learn more about the German occupation. Browse our travel guides for inspiration to start planning your trip to Guernsey.