It's time to fall in love with Jersey's luscious landscapes and stunning skies. And, it all begins with a ferry trip to Jersey!
Condor Ferries sails to Jersey from Poole, Guernsey, Portsmouth and St Malo, with daily sailings available throughout April to September which are our peak travel months.
Sailing durations to Jersey vary depending on where you're travelling from. If you're travelling to Jersey from the UK, the quickest ferry is from Poole with a sailing duration from 4 hours and 30 minutes. So, be sure to make the most of your time onboard and enjoy everything travelling to Jersey by sea has to offer.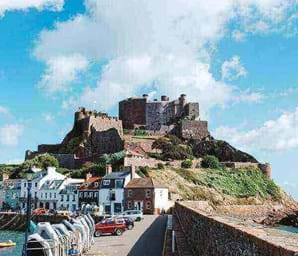 We offer two ferry routes to Jersey from the UK. You can get to Jersey onboard our high-speed ferry, Condor Liberation, from Poole port in 4 hours and 30 minutes. Or, you can travel onboard our conventional ferry, Commodore Clipper, from Portsmouth port in 10 hours and 20 minutes.
Depending on the time of day, you can take the ferry crossing direct from Guernsey to Jersey on either Condor Liberation in just 1 hour or Commodore Clipper in 2 hours.
If you're travelling from St Malo to Jersey, our other fast ferry, Condor Rapide, can get you there direct, in 1 hour and 20 minutes.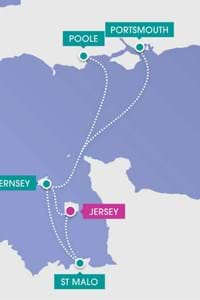 Plan your trip information is based on peak travel period: April - September
Whether you're planning on taking your car to explore every mile of Jersey or going on foot, taking the ferry to Jersey is a fun experience with stunning sea views to take in on the way there. Here's all the information you'll need on which vehicle to book, our timetables, which travel documents to take and what to do when travelling with a pet. Looking for things to do while in Jersey? Head over to our Jersey Travel Guides.