Book your trip to Jersey with confidence. You can easily change your booking for free up to 48 hours before your departure, with only the difference in fare to pay.
Search availability, times and prices


QUOTE & BOOK
Ferry routes to Jersey
We offer two ferry routes to St Helier in Jersey from the UK. You can get to Jersey from Poole in 4 hours and 30 minutes onboard our high-speed ferry, Condor Liberation. However, you can travel to Jersey onboard our conventional ferry, Commodore Clipper, from Portsmouth port in 10 hours and 20 minutes.
Depending on the time of day, you can take the ferry crossing direct from Guernsey to Jersey, St Helier on either Condor Liberation in just 1 hour or Commodore Clipper in 2 hours.
If you're traveling from St Malo to Jersey, our other fast ferry, Condor Rapide, can get you there direct, in 1 hour and 20 minutes.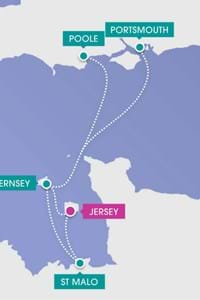 It's time to fall in love with Jersey's luscious landscapes and stunning skies. And, it all begins with a ferry trip to Jersey in the Channel Islands!
We are the only ferry company offering 2 ferry routes to Jersey from England, offering around 14 sailings a week from the UK. Our quickest ferry route is from Poole to Jersey, with daily sailings and a duration of 4 hours 30 minutes onboard Condor Liberation. Our Portsmouth to Jersey ferry also runs daily, with a duration of approximately 8 hours.
Condor Ferries are the only ferry company offering routes sailing from the UK to Jersey from Poole, Portsmouth, Guernsey and St Malo, with daily sailings available to the Channel Islands throughout April to September which are our peak months.
You can travel safely by sea to Jersey throughout the summer of 2020 on a revised schedule. We have new safety measures in place to ensure your trip is safe and comfortable. Watch our video to find out more.
And, if your plans change, you can rest easy knowing that you can book with confidence with free amendments. You can easily change your booking for free up to 48 hours before your departure, with only the difference in fare to pay.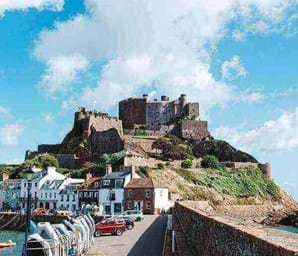 Plan your trip information is based on peak travel period: April - September
Frequently Asked Questions
How to get to Jersey by ferry from the UK?
Condor Ferries is the only ferry company operating the crossing to Jersey. You can get to Jersey from either Poole or Portsmouth ports from the UK. We also offer services between St Malo to Jersey and Guernsey to Jersey.
How long is the ferry crossing to Jersey?
The quickest ferry to Jersey is just 4 hours and 30 minutes from Poole on board our fast ferry Condor Liberation. Our alternative route is from Portsmouth to Jersey and this takes 10 hours 20 minutes on Commodore Clipper.
Can you take dogs on a ferry to Jersey?
Yes, you can take your pets on board our ferries. Pets can either stay in your car or be kept in a carrier which meets RSPCA requirements. For everything you need to know, read our guide to travelling with your
pets here.
Do you need a passport to go to Jersey? 
We require passengers to bring photo ID to check-in. You can bring your passport, but it is not essential. Other forms of photo ID we accept to travel can be found here.
Can you drive to Jersey?
Yes, you can pack your car and drive onboard our ferry to Jersey. Taking your car means you can pack everything you need, from extra luggage to your surfboards – just pack your car and go!
About Jersey
The beautiful island of Jersey is just nine by five miles but is the largest of the Channel Islands. Jersey's size means you'll be able to discover most of what the island has to offer in just one weekend. You will never be more than 10 minutes from the coast, soak up the sun on one of the stunning beaches or take in the coastal landscapes on foot or by kayak on one of the many tours available.
Jersey has a rich history and offers numerous attractions for the whole family to enjoy, from war tunnels to castles, underground museums, and adventure parks; take your pick of what to visit first. Browse our travel guides to start planning your trip to Jersey.
Travel to Jersey - Advice