In Guernsey, you'll find the ocean on your doorstep, miles of unspoiled beaches, a wealth of delicious fresh food and so much to do.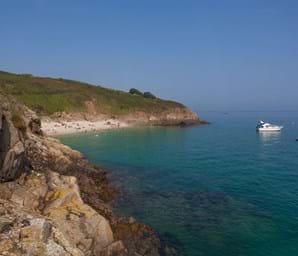 Plan your perfect Guernsey break
Guernsey is the perfect destination for your family holiday. Beautiful beaches will tempt youngest visitors to spend the day with their buckets and spades, but there's so much more to do. And, when you go by ferry for your Guernsey holiday, you can even bring the family dog onboard.
A self-catering holiday is the best option if you're travelling with the family or just wanting to relax at your own pace in beautiful surroundings. Whether you want picture-perfect cottages, convenient apartments or lodges by the sea, Guernsey has it all.
Compact Guernsey has a lot to offer if you're looking for a memorable short break. Investigate Guernsey's unique maritime heritage, learn about the island's wartime experiences and treat yourself to meals from leading chefs.
As you start to plan your holiday to Guernsey, do make sure you book your ferry travel in advance to get our best fares. Condor Ferries sails to Guernsey daily from Poole, Portsmouth, Jersey and St Malo. Find out more about our ferry routes to Guernsey.
Plan your trip information is based on peak travel period: April - September