Discover our Cherbourg ferry route, getting you to France from Guernsey in as little as 2.5 hours!
Search availability, times and prices

Brand new for 2022 discover our new ferry crossing to Cherbourg France from Guernsey. Condor Ferries will be sailing from Guernsey to Cherbourg available to book now!

Sailing onboard Condor Liberation, our Guernsey to Cherbourg ferry crossing will take just 2 and a half hours. From April 1st sailings will run weekly, getting you to Cherbourg in no time, giving you plenty of time to start your adventure in France!

Explore our Cherbourg ferry crossings below and start planning your break!
Ferries to Cherbourg
Take your car and hop on our fast ferry to Cherbourg!
Cherbourg is one of the largest artificial harbours in the world and is one of the most connected ferry ports in France, acting as a gateway to Normandy. Take your car on board and discover France from Guernsey in just 2 and a half hours onboard our fast ferry with our new route, or just 5 and a half hours from Poole. 
Sailing to Cherbourg allows you to easily explore everything France has to offer. Normandy has a rich history, beautiful beaches and is known for its famous points of interest in the D-Day landings.
It also provides easy access to major motorways; pack your car and take the family to enjoy everything France has to offer for a much-needed summer break.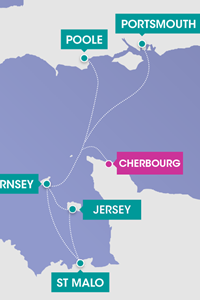 It's always a good idea to book your ferries to Cherbourg in France as soon as you've planned your holiday. If you'd like to travel during peak seasons like summer or half term then do try to book early – the further in advance you book, the more likely you are to find a better fare. Consider travelling on a week day instead of a weekend – you might find more options or offers to suit your budget.
Routes to Cherbourg

Sailing Duration

Frequency

Ship

Guernsey to Cherbourg
From 2 hours and 30 minutes
Up to twice a week
Condor Liberation
BOOK
Guernsey to Cherbourg
From 2 hours and 30 minutes
Up to twice a week
Condor Liberation
Plan your trip information is based on peak travel period: April - September
Plan your trip information is based on peak travel period: April - September