Visit the UK's south coast for a chance to experience something different and be inspired by the miles of stunning coastline.
Planning to start your holiday or break to the UK by ferry is easy thanks to Condor Ferries' daily sailings that will get you there from Guernsey by fast ferry in just 4.5 hours or from Jersey, from just 4 hours. You'll be able to freely pack your car with whatever you need for your visit to the UK, without any restrictions, and without the hassle of travelling by air.
Once you've booked ferry travel to the UK, there are so many lovely places to stay across the British south coast, especially when you opt for the flexibility that comes with taking your car and going by sea.
And, if your plans change, you can rest easy knowing that you can book with confidence with free amendments. You can easily change your booking for free up to 48 hours before your departure, with only the difference in fare to pay.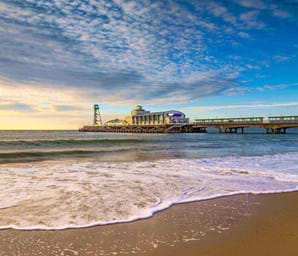 Plan your perfect UK holiday
Visiting the UK on a short break is great for either taking your car or going on foot. You'll be able to get a sense of the local area in just a few days – from taking in the local culture on a day visit to Kingston Lacy, to going on a relaxing nature walk to see Old Harry Rocks up close. And, there's such a variety of places to stay for you to choose from for a holiday or break to the UK.
Ferries to the UK
Planning a trip to the UK soon? Make sure to take the time to book your ferry travel in advance to get our best fares. Condor Ferries sails to Portsmouth daily from Guernsey and Jersey, and up to 4 times a week from St Malo. Find out more about our ferry routes to the UK.
Plan your trip information is based on peak travel period: April - September